Rocketmiles is an online travel agency (OTA) that offers the opportunity to book stays at a "curated list of high-quality hotels" and earn points or miles in the loyalty program of your choice. Instead of earning hotel points, the service allows you to choose between earning airline miles, Amex Membership Rewards, Uber cash, or even Amazon credit for your stay.
Rocketmiles launched in early 2013 and is now owned by Booking Holdings. That is the same company that owns Booking.com, Kayak, Priceline, Agoda, and OpenTable. Like those brands, Rocketmiles makes money by taking a commission from the room rates.
Rocketmiles and similar OTAs can be very lucrative, offering as much as 10,000 miles per night. Unfortunately, these extra rewards come at the price of higher service fees. You also sacrifice benefits that you could receive from booking directly with the hotel. This post will look at when it may be worth booking a hotel through Rocketmiles, in spite of these downsides.
How Many Miles Do You Earn With Rocketmiles?
Rocketmiles claims customers earn an average of 3,000 rewards points per night and 7,000 per trip. However, there really is no way to determine how many miles you will receive until you perform a search. The rewards are also not tied to specific brands or the room rate. You could be offered the same number of miles for a $600 booking as you would get from a $300 booking.
For example, below are the first two results for an upcoming two-night weekend stay in Chicago. You could earn 5,000 AAdvantage miles for a $398 two-night stay at the Hyatt Regency or 10,000 AAdvantage miles for a $684 stay at the Viceroy Chicago.
Sometimes you will see noticeable differences in the number of miles offered through Rocketmiles, depending on which airline you select. Looking at the same two hotels, you would earn around 20% more miles by choosing to credit Aeroplan than you would from crediting American.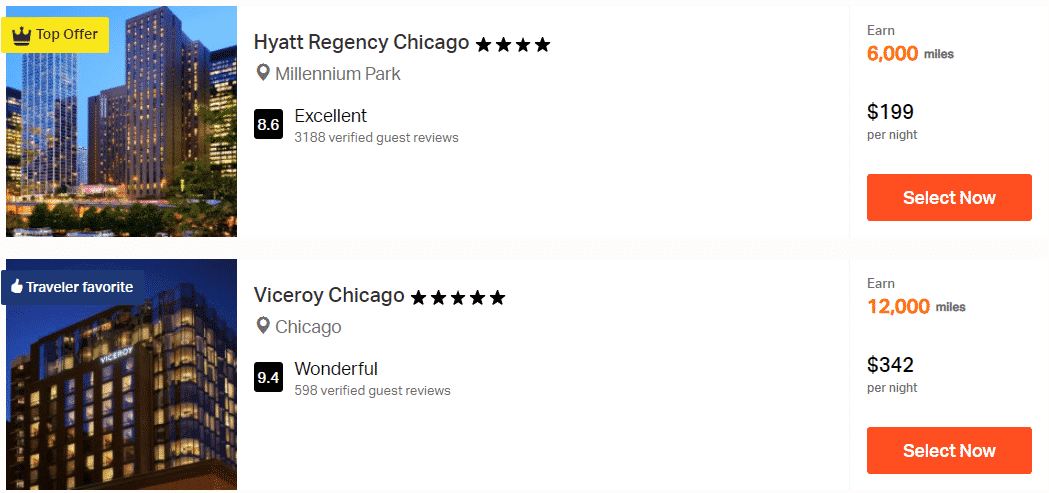 When you click through to a specific hotel, you will be able to choose from available room types, although the number of miles offered may not increase with the room rate.
Finally, there will be an option to pay for a "special boosted offer" to earn even more miles. Below are the additional miles I was offered to purchase for the same Hyatt Regency Chicago stay when earning Aeroplan miles.
With the "Boost" option, you are effectively buying 2,000 more miles at 2.6¢ each, and with the "Ultra Boost" option, you get 10,000 miles for 2.2¢ each. Neither option is an excellent deal, and certainly not something I would recommend. You can usually buy miles directly from an airline significantly cheaper than this. Moreover, there are many ways to use manufactured spending to get the same number of miles for less.
These "boost" options appear to be geared toward employees who will expense the entire booking cost to their corporate account. As shown in the screenshot above, Rocketmiles advertises that "Your receipt is kept simple." Regardless of whether you choose to pay extra for a boosted offer, only the average room rate shows on your receipt.
You also do not have to be the one traveling to earn miles with Rocketmiles. You can book hotels for friends, family, or colleagues and still reap the miles. Again, I see how this could be very lucrative, albeit not very ethical, for someone booking corporate travel for employees.
Rocketmiles says the points earned typically posts to the relevant loyalty program within two weeks of checkout.
Rocketmiles Signup Bonus
There is not currently a Rocketmiles bonus offered to new users. However, if you use my signup link, you can earn an additional 1,000 miles or points after completing your first booking. After you have signed up, you can receive an extra 1,000 miles or points for each user that signs up under your own referral link and completes a booking.
There have been several other Rocketmiles promotions, such as 5,000 bonus points or a $50 Amazon gift card for new users, but those have expired.
Rocketmiles Bookings Do Not Qualify for Elite Status Credits or Benefits
So what's the catch? Why wouldn't you always want to book through Rocketmiles?
On their "How It Works" page, Rocketmiles claims "Many of our frequent travelers have told us that they often do receive the benefits they are eligible for based on their existing status and that their stay counts toward their hotel loyalty account." This may be true for some boutique chains, but not the major brands.
If you book a Hyatt, Hilton, Marriott, or IHG hotel through Rocketmiles, you will not receive elite status benefits, and your stay will not count toward earning status. It doesn't matter if you're a Hyatt Globalist or a Marriott Ambassador Elite – you should not count on receiving any of your benefits when you book through Rocketmiles.
Most of the major brands explicitly state you will earn elite status or receive status benefits with bookings made through OTAs like Rocketmiles. This has been true with Hilton and IHG for a long time, but recently Hyatt and Marriott also changed their policies to exclude OTA bookings from their loyalty programs.
If I were in the midst of a Hyatt status challenge that requires 10 or 20 nights, I would certainly not think about booking through Rocketmiles.
With that said, sure, there is always a chance that management at a hotel will choose to honor your status, but by no means should you count on it.
This may not matter much to you if you only have a low-level elite status. Typically, the first elite tier doesn't get you much besides free internet, a bottle of water, and some extra points for stays. You may get lucky and receive a one-category room upgrade, but often it will only be to the same type of room with a slightly better view.
Once you have mid-to-top-tier elite status, though, you start to receive valuable benefits that make a difference in your stay experience. For example, you might have Hilton Diamond status through the Amex Hilton Aspire credit card or Marriott Gold status through Amex Bonvoy Brilliant or Amex Platinum card. In that case, I would be reluctant to book a Hilton or Marriott stay through Rocketmiles because I often get considerable value from some of the benefits I receive through those status levels.
The cost of Rocketmiles
Rocketmiles does not claim to offer the lowest price. Sometimes the price will be higher than what you find elsewhere. However, often the price is competitive with other OTAs, and the rates are similar to what you could get from booking directly with the hotel. For a fair comparison, you will need to compare the total price, including taxes and any service fees.
The room rate offered through Rocketmiles for both Chicago hotels discussed above appears to be slightly higher than the price from booking direct. For instance, the nightly rate at the Regency is $199, and after adding in taxes and fees, the total cost for two nights is $497.50.
Hyatt's website shows a t member "Advance Purchase" nightly rate at the Regency for $196. That is slightly lower than the room rate on Rocketmiles at $199. However, after factoring in taxes and fees, Rocketmiles is about $40 more expensive than booking direct through Hyatt.
Technically, the $199 Rocketmiles rate is only for a "Standard" room, so you could either end up in a King or Two Queen room. Whereas, with the $196 Hyatt rate, you are paying for the exact room type you request.
One way to look at this would be that you're buying 5,000 AAdvantage miles for $40, or 0.8¢ per point- that's not a bad rate. That assumes you place no value on any Hyatt elite status benefits you have or the elite-qualifying credits you would earn through booking direct.
You're also giving up any Hyatt points you would earn. If you had no status with Hyatt, this Regency booking should earn you at least 1,950 Hyatt miles. If you value Hyatt points at 1.5¢ per point, that would be worth $29.25.
If you have the Hyatt Credit Card, entitling you to Discoverist status, you will earn 3,977 points (2,145 points through Hyatt + 1,832 through the Credit Card). That's worth $59.65 using the same 1.5¢ valuation.
It is easy to see how Rocketmiles may not be the best value when booking hotels from a major brand, especially if you place even a small value on hotel points or loyalty status.
Next, we will turn to the Viceroy, a hotel that is not a member of a major brand.
Rocketmiles charged $342 a night, plus $171 in taxes and fees.

Alternatively, the total cost of booking direct is $872, but that includes the $40 amenity/resort fee.
Therefore, Rocketmiles is about $22.64 more expensive than the price to book direct. Again, you could chalk this discrepancy up to paying 0.23¢ per mile for 10,000 AAdvantage miles. In this case, that's a great deal, considering you're not giving up any tangible benefits from not booking directly with Viceroy.
The takeaway is, like any hotel booking, you will want to compare the total price, including any taxes and fees, before deciding where to book. Then, you should calculate the airline miles you will earn through Rocketmiles as well as any elite status benefits or hotel points you are giving up from not booking directly.
Credit Card Rewards with Rocketmiles
In addition to any miles earned through Rocketmiles, your purchase will also earn the usual amount of points or miles on your credit card. Since the room rate is charged by Rocketmiles and not the hotel directly, you will not earn the bonus points by using a hotel-branded card such as the Hyatt, Marriott, Hilton, or IHG credit card.
However, because Rocketmiles codes as travel, you can still earn more by using a card that offers a bonus for travel-related purchases. For example, The Chase Sapphire Reserve, Chase Ink Preferred, Citi Prestige, Citi ThankYou Premier, and the CNB Crystal Visa Infinite cards would all earn 3x points on bookings made through Rocketmiles.
Using Rocketmiles for a Southwest Companion Pass
The Southwest Companion pass is probably one of the most blogged about benefits in the travel hacking community, and for good reason. The pass entitles you to designate a companion to fly with you on any Southwest flight for free. You only need to cover their taxes and fees.
You need to earn 110,000 qualifying points or fly 100 one-way flights in a year to qualify for the Southwest companion pass. Once you obtain the pass, it is valid for the remainder of that year, plus the entirety of the following year.
While the signup bonuses on the Southwest personal and business credit cards count toward the 110,000 qualifying points requirement, Chase has various signup restrictions in place. You can only get one of the Southwest personal cards every 24 months. Additionally, Chase's 5/24 limitation applies to all the Southwest branded cards.
All these restrictions mean you may need to find creative ways to earn the 110,000 points. Luckily, any Southwest points earned through Rocketmiles count toward qualifying for the companion pass. If you are a few thousand miles short of qualifying, it may be worth booking through Rocketmiles, even if you have to pay a bit more than other third-party sites.
Book direct and still earn miles
You can have your cake and eat it too – well, just maybe not as much cake.
Many of the major hotel brands allow you to choose to earn airline miles instead of hotel points and still earn elite-qualifying credits and receive status benefits during your stay. For example, with Marriott, you can choose to receive miles in one of more than 40 airline programs. That includes 1 to 2 Delta, American, or United miles per dollar spent, or 600 Southwest Rapid Reward points per stay.
While the hotels certainly do not offer as many miles as you could earn from booking through Rocketmiles, the elite benefits may make it a better value.
Additionally, if you have American Airlines Gold status or higher, you can link your Hyatt account to earn one mile for every dollar spent at Hyatt Hotels. Unfortunately, Marriot's and United's RewardsPlus partnership does not provide a similar benefit.
Other OTAs that reward you with miles
Rocketmiles is by no means the only OTA that allows you to earn miles for hotel bookings. There are several other websites with a similar rewards model.
PointsHound
PointsHound sprung around the same time as Rocketmiles and was recently acquired by Points.com in November 2018.
The rewards model is nearly identical to Rocketmiles, offering a base level of rewards and the option to receive additional miles with a higher room rate. As shown below, PointsHound would provide 4,600 AAdvantage miles for the same Hyatt Regency booking we have been looking at.
Supposedly, PointsHound used to have its own loyalty program. The more you booked through the site, PointsHound had higher rewards offerings. When you signed up, you were at level one. Once you completed your first five nights, you were upgraded to level two and would start to receive higher reward offerings.
Unfortunately, there's currently nowhere on the PointsHound website that clearly describes this – leading me to believe they discontinued this feature. In fact, when I reached out to PointsHound about this, they said the information about tiered rewards offerings on other websites "may be incorrect." When I log in to my PointsHound profile, it says "Book 5 more nights to reach Level 2!" However, nothing indicates you get additional benefits after reaching level two.
Therefore, unless PointsHound tells you otherwise, you should assume the magnitude of miles and points you see on the site will remain the same, regardless of your level.
PointsHound no longer appears to offer a referral program.
Agoda PointsMAX
Agoda is another popular OTA owned by Booking Holdings, the same company that owns RocketMiles. The site's PointsMax allows you to select an airline to earn miles in for your bookings. The number of miles offered is often much less than you could earn from the other OTAs on this list. At least when selecting AAdvantage miles, PointsMax only provides around $1 mile per dollar spent.
Below is the same room at the Hyatt Regency Chicago. It is offered at the same nightly rate as on Rocketmiles and PointsHound but only provides 508 AAdvantage miles.
Given these abysmal rates, you should check whether you can earn the same amount by booking directly through the hotel and selecting miles as your preferred reward.
However, while Agoda does not have the highest rewards, it certainly has one of the broadest selections. Agoda offers access to nearly any hotel you can find on other major OTAs such as TripAdvisor or Expedia. You can even also earn miles on Agoda Homestays.
Agoda offers a best price guarantee. If you reserve a room through Agoda and find the same room on another site at a lower price, you can submit a claim to receive a price match or a credit in the form of AgodaCash.
Any price guarantee sounds good in theory. Unfortunately, like most other OTAs, Agoda's guarantee only applies when the booking terms are precisely the same. If you book a room on Agoda that is fully refundable until one day before check-in, you cannot submit a price match from another site where the free cancellation window is only until two days before check-in.
Kaligo
Kaligo is another OTA based around airline mile rewards for hotel bookings. The site seems to offer a similar number of miles to RocketMIles. As shown in the screenshot below, you could earn 6,114 British Airways Avios points for making the same Hyatt Regency Chicago booking that we have been looking at.
The base room rate is slightly higher than Rocketmiless, and the total number of miles earned is lower. However, the overall room price comes out $31.00 cheaper.
Behind Agoda, Kaligo appears to offer one of the largest selection of hotels among the mile-rewarding OTAs.
Bottom Line
Rocketmiles and other OTAs that offer airline miles for hotel bookings can be very useful, particularly when you are booking a boutique hotel or do not have elite status. However, the extra rewards certainly come with a price, both tangible and intangible.
Compared to booking directly through the hotel, the total price of your stay will likely be higher, and you will forgo any hotel points you would have earned. Additionally, you will not receive any credit toward elite status, nor will you be entitled to any elite benefits during your stay if you already have status.
The key, as is often the case with travel hacking, is to shop around. If you decide the extra cost of earning airline miles is worth it, compare the number of miles offered by Rocketmiles, Kaligo, and Pointshound. Also, be sure to try searching different types of airline miles as some programs may have drastically higher payouts compared to others. Finally, whatever way you choose to book, make sure to use a card that earns additional points for travel-related purchases.