A referral bonus can greatly increase the value of credit cards, particularly if you have family or friends who you can easily refer to or sign up on their behalf. Among all the major banks, the Amex refer a friend program Express is one of the most lucrative. Each Amex card you hold has its own referral capacity. For example, on all the cards that earn Membership Rewards, you can earn between 10,000 – 25,000 points per referral, and up to 35,000 – 55,000 points per card per year.
That means a couple could easily rack up an additional 100,000 points by referring each other to two new Amex cards a year. At a minimum, 100,000 Membership Reward points are worth $1,000 if redeemed for gift cards or through the Amex travel portal, $1,250 in cash if you have a Schwab Amex Platinum, or significantly more in travel if you transfer to an airline or hotel.
Furthermore, American Express is one of the easiest banks to get approved for a new card, especially if you already have an existing relationship with them. It is even possible they will not require a hard pull on your credit report to approve you for a new card.
The Universal Referral System
Previously, Amex only allowed you to refer to cards within the same brand family. That meant if you referred from your Hilton-branded cards, the recipient could only use your link to sign up for Hilton cards.
In 2018, Amex removed that restriction, meaning you can now receive a bonus if the referred member is approved for any personal or business American Express card. Your referral reward will always be based on the card you sent the referral from. For example, if you refer from your Amex Business Gold Card but your friend signs up for a personal Marriott Bonvoy card, you will earn Membership Reward points.
Some co-branded cards, such as the Schwab Amex Platinum or Morgan Stanley Amex Platinum cards, earn a $100 referral bonus, even though those cards earn Membership Reward points on purchases.
Since you can earn a referral bonus regardless of which card the referred applicant signs up for, it always makes sense to refer from the highest-earning card. Below is a table of the current referral bonus available on some of the Amex cards.
| Card | Referral Bonus | Max per Year | | |
| --- | --- | --- | --- | --- |
| Co-Branded Platinum | $100 | $550 | | |
| Everyday | 10,000 Amex MR | 55,000 Amex MR | | |
| Green Card | 5,000 Amex MR | 55,000 Amex MR | | |
| Amex Gold | 10,000 Amex MR | 55,000 Amex MR | | |
| Platinum Card | 15,000 Amex MR | 60,000 Amex MR | | |
| Business Gold | 25,000 Amex MR | 55,000 Amex MR | | |
| Business Platinum | 15,000 Amex MR | 55,000 Amex MR | | |
| Gold Delta | 10,000 Miles | 55,000 Miles | | |
| Hilton Aspire | 15,000 Hilton Points | 80,000 Hilton Points | | |
| Hilton Honors Business | 20,000 Hilton Points | 80,000 Hilton Points | | |
| Hilton Honors | 20,000 Hilton Points | 80,000 Hilton Points | | |
| Bonvoy Business | 20,000 Marriott Points | 55,000 Marriott Points | | |
| Bonvoy Brilliant | 15,000 Marriott Points | 55,000 Marriott Points | | |
How to refer to an Amex Card
Amex's referral system is very straightforward.
Go to this page and log in to your Amex account.
Each of your American Express cards will show up along with the relevant referral bonus and several options to share your referral. You can generate a unique referral link or enter the recipient's email, and Amex will send them your referral link. However, if the recipient has opted out of marketing emails from American Express, they may not be able to receive a referral email.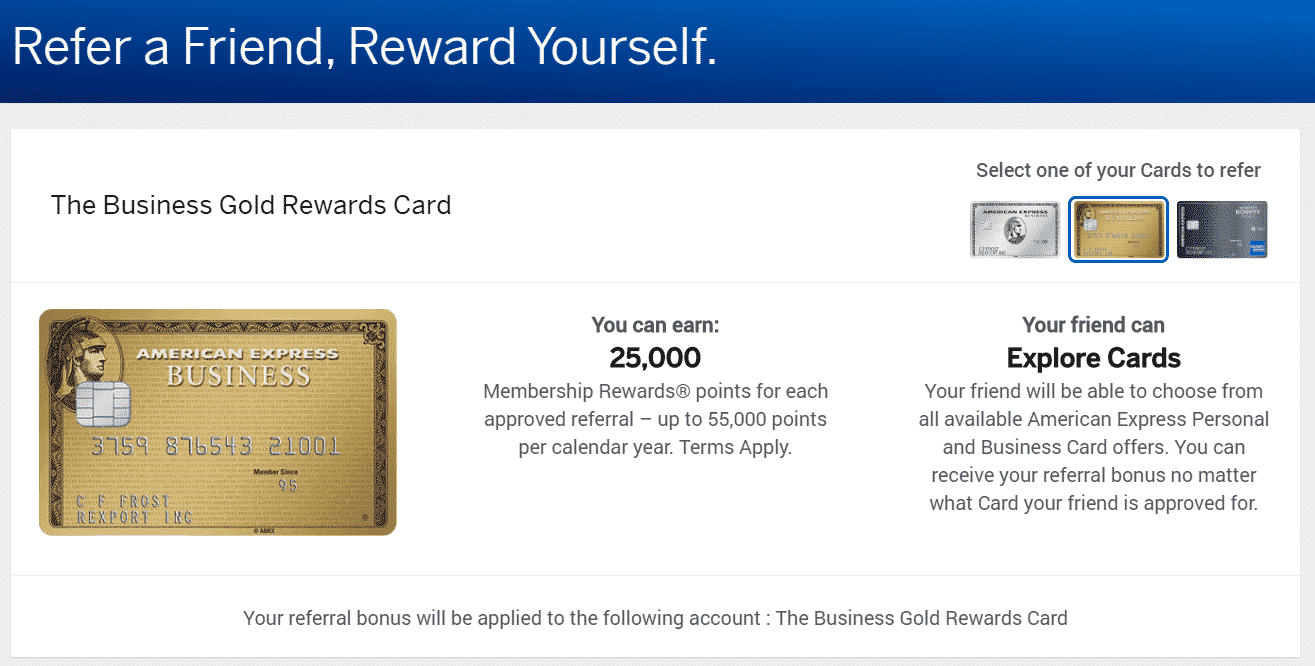 When the recipient clicks on your referral link, they will be taken to a page with the card you referred them to. If the recipient wants to apply for a different American Express card, they can click the link that says "View all cards with a referral offer."
If the referred applicant is approved, you should receive an email notification within a few days informing you that you earned a referral bonus. However, if the referred applicant is denied, you will not be notified. If you know the referred applicant was approved but you do not receive a confirmation email within a week, it may be worth reaching out to Amex through chat and asking them to investigate the matter.
Amex notes the points may take 8-12 weeks to post to your account. However, they often post much faster than that.
Signup bonuses and referral
You should check whether the signup bonus available through a referral link is the best offer available. Occasionally, the signup bonus available through an Amex refer a friend link may be different than the publicly available offer. It is always a good idea to check the American Express website in your usual browser as well as in incognito or private browsing mode. Sometimes the signup bonus on American Express's own website will show differently in different browsers.
Additionally, you should check Creditcards.com's Card Match tool and American Express's pre-qualified offers page. For example, some have received targeted offers for a 100,000-point signup bonus on an American Express Platinum card through those two sites. That is significantly better than the 60,000-point publicly available offer on Amex's website.
Amex Refer a friend Restrictions
You should also keep in mind the referred applicant will still need to comply with American Express's five-card rule. The rule dictates you can only hold five American Express credit cards at any time. Nearly all American Express cards are credit cards, except for the personal and business versions of the Platinum, Gold, Green, and Plum cards, which are charge cards.
Additionally, applicants will also be subject to Amex's one-bonus-per-lifetime restriction. That rule dictates that you can only receive a signup offer on a card once every seven years. If the applicant is not eligible for the signup bonus either based on the once-per-lifetime restriction or for other reasons, the applicant should see a message informing them of this before applying. However, even if the referred member is not eligible for a signup bonus, the referring member is still eligible to receive a referral bonus if the applicant is approved for the card.
Amex notes that you may not be eligible to earn to a refer a friend bonus if "you have a history of referring friends who cancel their card within their first three months of Card Membership."
Other restrictions to keep in mind
Limits
As previously mentioned, each card has its own annual limit on the number of points you can earn from referral bonuses. This limit will reset each year on January 1 or if you product-change a card. There is no limit on the total amount of referral bonuses you can earn across all cards.
Who can you refer
The program terms state you are allowed to refer "friends, families, and acquaintances only." Furthermore, Amex states you should not "publish or distribute your referral links in locations where the audience is likely to include individuals you do not know or who may not be interested in the Card Offer." If you post your link on social media or a website, you must make it clear that you will receive a reward if the applicant is approved.
Even if the referred applicant is already an authorized user on your card, you are still eligible to receive a referral bonus if they are approved for their own card.
Amex Self-referrals are strictly prohibited
Previously, some individuals have used their own Amex refer a friend links to sign up for a new American Express card. While they originally received the referral bonus, in 2019, American Express retroactively clawed back many of these points. This practice may also risk your account getting shut down and all your cards canceled by American Express.
Tax Implications
Amex notes any referral bonus earned "may be taxable income to you." If you generate enough referrals, usually $600 worth, it's possible Amex will send you a 1099 form. American Express usually values Membership Rewards at one cent each for tax purposes.
Other cards with a referral bonus
While American Express may offer some of the most lucrative referral bonuses, they are not the only major bank to offer them. Chase also offers referral bonuses on its Marriott, Hyatt, Disney, Southwest, United, and Ultimate Reward earning cards. In some cases, the annual referral limits on these cards are up to 100,000 points / $1,000 per year. The ability to refer from Chase cards can open up within a few days of being approved for the card.
However, given most of these cards are subject to the 5/24 restriction, it's often hard to fully utilize their referral capacity. Additionally, unlike American Express, a Chase referral bonus is only awarded if the recipient signs for the exact card they are referred to.
Unfortunately, Synchrony bank does not offer a bonus on the best Membership Reward earning card, the Rakuten credit card.
| Card | Referral Bonus | Max Per Year |
| --- | --- | --- |
| Ink Cash Unlimited | 15,000 Points / $150 | 75,000 Points / $750 |
| Ink Preferred | 20,000 Points / $200 | 100,000 Points / $1,000 |
| Chase Sapphire Preferred | 15,000 Points / $150 | 75,000 Points / $750 |
| Chase Freedom | 10,000 Points / $100 | 50,0000 Points / $500 |
| Chase Freedom Unlimited | 10,000 Points / $100 | 50,000 Points / $500 |
| Hyatt | 5,000 Points | 25,000 Points |
| All Southwest Cards | 10,000 Points | 50,000 Points |
| United Explorer Card | 10,000 Miles | 50,000 Miles |
| Marriott Bonvoy Card | 20,000 Points | 100,000 Points |
| Disney Visa Card | $100 Reward Dollars | $500 Reward Dollars |
| Discover | $50 | |
Bottom Line
Referral bonuses present some great opportunities to earn additional value from your credit cards. The Amex Refer a Friend program offers some of the best bonuses, especially considering how lenient the bank is at approving existing customers for additional cards. Assuming the signup bonus matches the best available offer, it always makes sense to sign up through a refer-a-friend link.