The World of Hyatt loyalty program has long been a favorite among travel hackers for the ability to earn elite status through booking award nights.
Theoretically, if you started without any Hyatt stays or points, you could earn top-tier status by transferring 300,000 Chase Ultimate Rewards to Hyatt and booking 60 award nights at a Category 1 hotel. While most find the benefits of Globalist status extremely valuable, that is probably not the best use of 300,000 points. Luckily, there are cheaper ways to qualify for this status.
From a Hyatt status match or challenge to credit card spending, this post will walk through the many ways to quickly become a Hyatt elite.
World of Hyatt Elite Status Levels
Most of the time, when a hotel or airline announces that they are making "enhancements" to their loyalty program, it's not good news. Yet, Hyatt's 2017 revamp of their elite program, now branded the "World of Hyatt," was refreshingly simple.
The World of Hyatt has three levels of elite status: Discoverist, Explorist, and Globalist. Members can reach each level through either qualifying night stays, earning base points, or holding meetings or events at Hyatt properties.
Base Points are similar to an airline's EQDs (Elite Qualifying Dollars) requirement. You earn five base points for every eligible dollar spent at Hyatt, M Life, and SLH hotels. The top-tier Globalist status would require $20,000 spent in a single calendar year, while mid-tier Explorist status would require half that. If your average room rate were $333 per night, it would take 60 nights to earn the Globalist Status through Base Points.
A qualifying tier-night is defined as "any night when the member stays at a Hyatt hotel or resort or an M life Rewards destination, pays an Eligible Rate or redeems a free night award, and associates his or her World of Hyatt membership number with the reservation." This is the path most travel hackers will take to qualify for Hyatt elite status.
Any status earned with Hyatt, whether through a match, challenge, credit card, or the traditional route, is valid through February after your first full year of elite status. For example, if you earn elite status in February of year one, your status will be valid for the remainder of that year, the entirety of year two, and through February of year three. If you accrue enough base points or qualifying nights in year two to re-qualify, the status will extend through February of year four.
Milestone Awards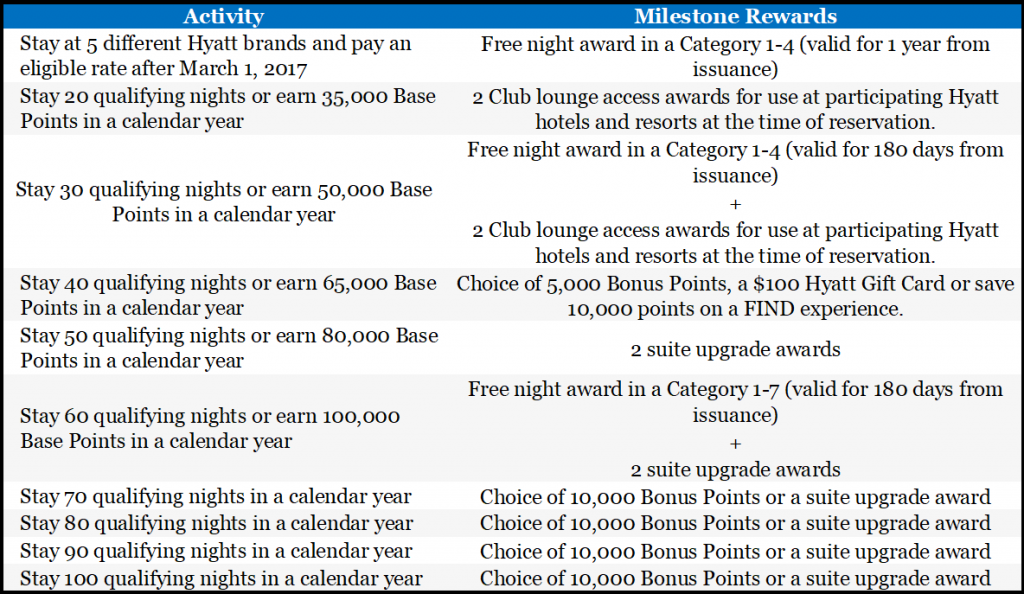 In addition to earning elite status, qualifying nights and base points also qualify you for Milestone Awards. These are benefits such as free night certificates, club lounge awards, upgrades, and bonus points. Most of these rewards come with a strict expiration date. Check the World of Hyatt terms and conditions for more details.
Hyatt Status Match with M Life
The only consistent way to receive a Hyatt status match is through MGM Resort's M Life loyalty program. The two brands partnered up in June 2013, and for several years, it has been possible to match elite status from one program to the other.
The M Life program has three tiers of elite status, but Hyatt elites can only match the first two. Hyatt Discoverists can match to Pearl status, while Explorists and Globalists can match Hyatt status to Gold status. There is no way to match to M Life Platinum status.
The key here is recognizing when the status you earn in either program will expire.
Hyatt elite status expires at the end of February, whereas M Life status expires at the end of September. Therefore, you only need to qualify for M Life Gold or Hyatt Explorist once. After that, you can take advantage of the difference in timelines to status match back and forth between each program in perpetuity.
Here is how it would work if you started with Hyatt elite status.
Year 1: You qualify for Hyatt Explorist. Your status is valid through February of Year 3.
Year 2 (Oct): Match your Explorist status to M Life Gold. Your gold status is valid through Sep of Year 3.
Year 3 (Feb): Match your M Life Gold status to Hyatt. Your Explorist status is now valid through Feb of Year 4.
Repeat steps 1-3.
If you happen to earn M Life elite status first, you would simply start with step #3.
If you are a Hyatt Globalist, the same steps apply. Likewise, if you have Hyatt Discoverist, you would be continually matching to Pearl.
Unfortunately, there is currently no ability to match elite status from any other hotel program such a Hilton, Marriott, or IHG.
Hyatt Status Challenge for American Airlines Elites
American and Hyatt launched a partnership earlier this year. The launch was accompanied by a targeted status challenge allowing those with elite status in at least one of the programs to earn elite status in the other. Registration for this status challenge closed on October 1, 2019 but it may still be worth linking your accounts to ensure you are targeted for future challenges. Anyone regardless of status, who links their AAdvantage and Hyatt accounts will earn one AAdvantage bonus mile for every $1 spent on qualifying Hyatt stays and experiences.
As part of the partnership, American AAdvantage Concierge Key members (invitation only) are entitled to complimentary Globalist status with Hyatt
Hyatt Status Challenge for Corporate Members
Update: The "official" Hyatt corporate status challenge expired on November 28, 2019. Company-specific links may still exist. The official status challenge will likely return in 2020.
Hyatt also has an Explorist and Globalist status challenge for corporate travelers. You are required to have an eligible corporate email address to sign up. However, it seems most large corporations' are eligible. Your Hyatt profile does not need to include the corporate email address you use to opt-in to the challenge, so you can use a friend's email if they are eligible.
The current challenge is open for registration until November 28, 2019. Yet, it seems many companies have access to a Hyatt status challenge indefinitely through a company-specific link (see the next section for proof).
Once you successfully register, your account will be upgraded to Explorist status for 90 days. If you stay 10 nights within that same period, you will keep your Explorist status. If you stay 20 nights within the same period, Hyatt will upgrade you to Globalist status. Any level of status you earn during the challenge, whether Explorist or Globalist, will be valid until February 2021.
Remember, you will only earn the Milestone Awards based on the actual number of qualifying nights you stay. So if you accrue 20 qualifying nights, you will only collect the first Milestone Award: two Club Lounge Access Awards.
You may also be able to use your 90-day Hyatt Explorist status to obtain American Airlines elite status through the partnership discussed above. If so, you should receive AAdvantage Gold status for three months. AA Gold does not get you much, but it does entitle you to priority boarding, a free checked bag, preferred seat selection, and waived close-in award booking fees. First, you will need to link your AAdvantage and Hyatt accounts here. Then go to the AA promotions page to see if you are targeted for a challenge.
Hyatt Status Challenge for everyone else (Ebay)
While I cannot condone this method, it does appear to work. If you choose to go this route, it is probably not wise to use your primary Hyatt account.
Several sellers on eBay sell access to a Hyatt Explorist or Hyatt Globalist challenge. My guess is these sellers work for a company that has indefinite access to Hyatt's status challenges. The seller probably can generate an unlimited number of email addresses under their company domain to sign users up for the promotion.
At the time of this writing, one seller even is offering Explorist status through February 2021 without the need to complete any stay requirements. Again, my guess is that this is another targeted corporate promotion.
Several members of the Award Travel subreddit have reported success with these eBay offers.
Match "Temporary" Hyatt Status to M Life and back
Some have had success matching temporary Explorist status granted during a status challenge to Gold status in the MGM Resort's M Life program.
If you can successfully match to M Life Gold, your temporary Hyatt status may automatically be extended for a full year. That means you won't need to complete the 10 qualifying nights required to earn Explorist through the challenge.
If you match to Gold, but your Hyatt status is not automatically extended, you can attempt to match back to Hyatt manually.
Unfortunately, the corporate status challenge currently open to the public cannot be matched to M Life. The terms on the public, corporate challenge page say: "the member will not be eligible to tier match into Gold status with M life Rewards, the loyalty program of MGM Resorts International, as part of the trial."
On the other hand, the challenges targeted for specific companies, including those being sold through eBay, appear to work.
Discoverist Status with the World of Hyatt Credit Card
The easiest way to obtain Hyatt elite status is through The World of Hyatt Credit card ($95 annual fee) or the Hyatt Credit Card ($75 annual fee – no longer open to new applicants). Both cards provide automatic Discoverist status. Additionally, the MLife Credit Card (no annual fee) also offers complimentary Pearl status, which you could status match to Hyatt Discoverist.
Discoverist is the first tier in the World of Hyatt loyalty program. The status would typically require 10 qualifying nights, 25,000 base points ($5,000 in Hyatt spending), or three meetings/event bookings.
Discoverist status entitles you to the following benefits:
10% bonus points on paid stays
Upgrades to a preferred room, based on availability
Free bottle of water and complimentary "premium" internet each day
2 pm late checkout, subject to availability
The ability to match to MGM Resort's M Life Pearl Status. This status provides complimentary self-parking, a dedicated line at the buffet, and invitations to member-only events
The "preferred room" upgrade means they offer you a room with a preferred view or location but within the same category of room that you booked. For example, you could be upgraded from a "Resort View King" to an "Ocean View King."
The late checkout benefit could be useful, but it is at the hotel's discretion whether to grant it.
I once had a disappointing experience with this benefit at Hyatt's all-inclusive Zilara Rose Hall resort in Jamaica on the morning of my check out. I called the front desk to request a 2 pm checkout (the standard checkout time is noon). The front desk assured me that this would not be a problem.
Yet, when we returned to our room at 1:30 pm, our keys no longer worked. When we went to the front desk, they were surprised. They insisted they never granted us late check out and could not believe someone at the desk had given us a 2 pm checkout. So, even if you are granted a late checkout, you should not always expect it to go flawlessly.
Explorist status with the World of Hyatt Credit Card
Hyatt Explorist status requires 30 elite qualifying nights. The World of Hyatt Credit Card provides you with five elite qualifying free nights each year, plus you earn two elite-qualifying nights for every $5,000 spent on the card. Therefore, to qualify for Explorist status without completing any paid stays, you need to spend $60,000 on the card. That might sound like a lot, but it is quite easy to obtain if you are manufacturing spend or in a buying group.
In addition to the benefits above, by earning Explorist through reaching 30 paid nights, you would also have qualified for several Milestone Rewards.
World of Hyatt Explorist Status provides:
20% bonus points on paid stays
Upgrade to the best available room, excluding suites and club-level rooms
Guaranteed room-availability for paid reservations 72 hours before check-in, subject to blackout dates and times when there is "extraordinary room demand."
If you have the old Hyatt credit card, you only need to spend $50,000 in a calendar year to earn Explorist status. However, the old card does not earn elite-qualifying nights. Instead, you are simply granted the status without qualifying nights once you reach the threshold. Since you are not accruing qualifying nights, you will not earn any Milestone Awards.
Bottom Line
Hyatt is undoubtedly one of the best award programs for travel hackers. The company's ever-expanding portfolio of hotel brands around the world offers something for every traveler. From the flagship Grand Hyatt and Park Hyatt hotels to luxury private pool villas, there is no shortage of excellent award redemption options. Moreover, the ability to transfer Chase Ultimate Rewards points to Hyatt makes it easy to amass an enormous amount of points.
Better yet, there are several ways to quickly obtain mid- or top-tier elite status without spending a fortune.
If you happen to have M Life Gold status, you have access to a Hyatt status match. Otherwise, you can use a corporate or American Airlines partnership challenge to qualify for Explorist or Globalist with a fraction of the usual 30- or 60-night requirement. Plus, since free night awards qualify as 'Tier-Qualifying Nights," you do not even have to shell out the standard room rate.
Have questions about a Hyatt status match or challenge? Shoot me an email or comment below.
Featured image courtesy of Prayitno on Flickr.