You can travel hack your way to a luxury Maldives vacation using points and miles. There are two credit cards that you and your travel partner can use to book a five-night stay in an overwater bungalow at some of the best hotels in the Maldives.
In fact, getting to the Maldives with miles is surprisingly easy. While there are no nonstop routes from the U.S., there are several one-stop flights on Qatar, Turkish, Singapore, and even Etihad. You need a mere 70,000 American Airlines miles to fly in Qatar Airlines Qsuites, which is arguably one of the best business-class products in the world.
One of the many reasons I am passionate about using miles and points is because it can bring once-in-a-lifetime travel experiences we otherwise would not have been able to experience.
My Recent Trip to W Maldives
Last month, my fiancee and I returned from a six-night stay at the W Maldives. Without a doubt, it was one of the most incredible travel experiences of our lives.
Not only did we fly in Qatar Airways QSuites, one of the best business class products in the world. We stayed for four nights in a room with a private plunge pool and direct access to the beach. Then for our final two nights, we stayed in an overwinter bungalow. I will have a full review of the resort in a future post.
When we tell friends and family about our trip to the Maldives, they assume we spent several thousand. Yet, the truth is, the direct out-of-pocket cost of our trip was only $2,500. This was primarily for food and seaplane transfers. We used 280,000 American miles, and 300,000 Marriott points for our flights and hotel respectively.
The required points W Maldives increased from 60,000 to 85,000 since we booked our stay last year. However, a four or five-night award stay still only requires you and your partner to sign up for two Marriott credit cards.
Business-class tickets on Qatar from the U.S. to the Maldives (MLE) requires 70,000 American points each way. The 140k miles required for a roundtrip can likewise be obtained from two credit card signup bonuses.
Factoring in the cost to acquire the miles and points, our trip cost around $3,200. This compares to the standard room rate of $860/night for our dates and $3,880 round trip for our Qatar business class tickets. in total, the price of our trip without miles and points would have been nearly $13,000.
You don't even need to be an expert at award travel to book this trip either.
If you dream of going to the Maldives for your honeymoon, or to experience luxury for a fraction of the price, the trip is within reach.
A New Option: JW Marriott Maldives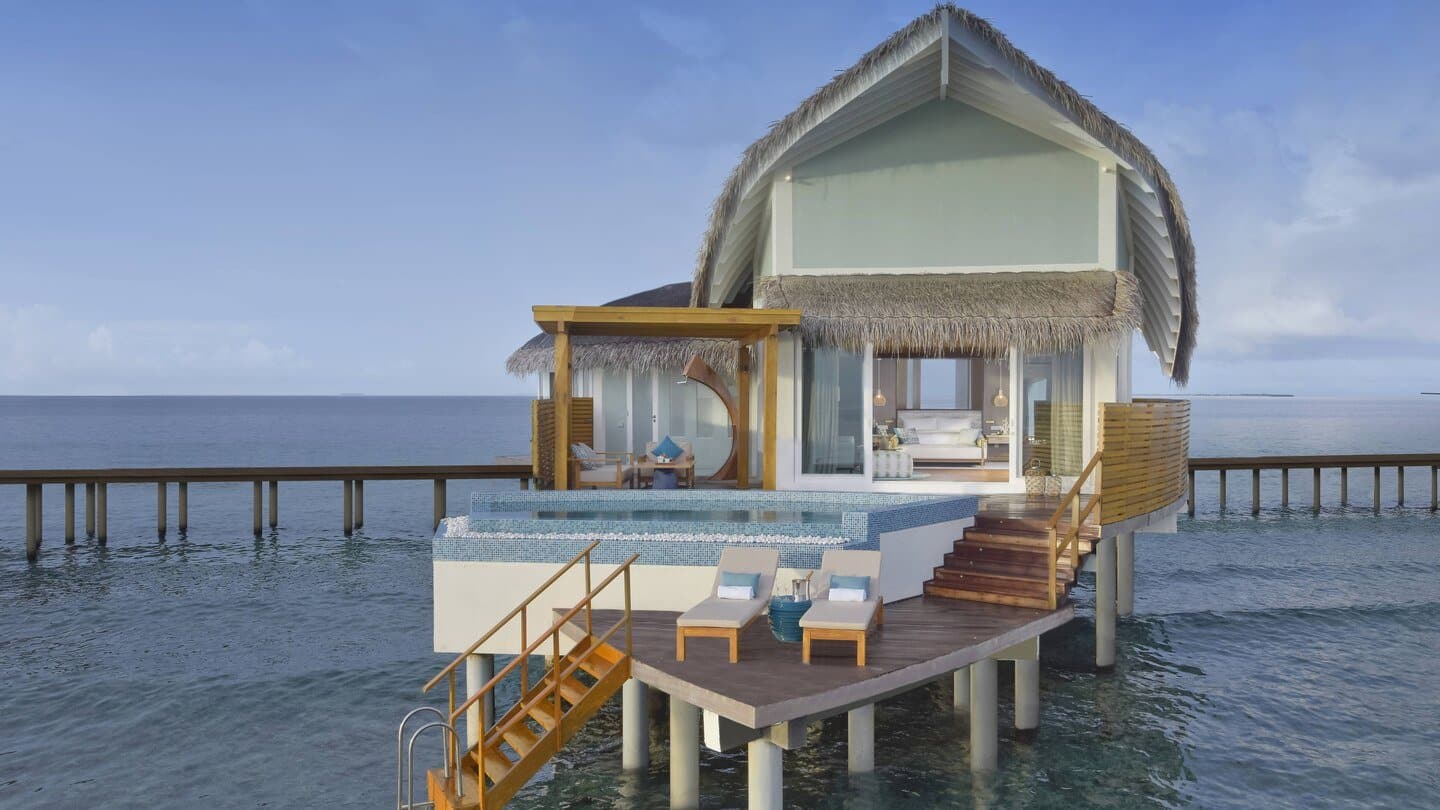 In August 2019 a JW Marriott will be open in the Maldives. The resort will feature overwater Vilas available at a standard rate of 85k per night. All of Marriott's other resorts in the Maldives require additional points beyond the standard rate to book overwater rooms.
On our trip to W Maldives, my fiancee and I booked a Wonderful Beach Oasis using points. We requested and were lucky to be granted, a complimentary upgrade to an overwater bungalow for our final two nights.
However, I would not count on receiving such an upgrade, especially if it is a busy week. If your dream is to stay in an overwater bungalow, the JW Marriott may be your best shot.
If you are interested in booking one of these rooms, book it now. You can Log in and make a reservation today even if you do not have enough points yet.
The only requirement is that you have the points in your account within 14 days of your booking. You can easily change the dates of your booking anytime within the free cancellation window. The cancellation window for the new JW Marriott Maldives is two-days before arrival.
Credit Cards that get you to the Maldives
Here's how you and your travel partner can earn enough points for a luxury stay in the Maldives:
Apply for Bonvoy Business: You apply for the American Express Marriott Bonvoy Business Card and earn 75K points after spending $3,000 during the first 3 months ($125 annual fee). Remember that you do not need to own an incorporated business to qualify for a business card. Anything you do to generate cash flow counts, including eBay sales.
Refer your partner to Bonvoy Business: Once you have received your Bonvoy Business card, use the "Refer a Freind" feature on the AMEX website to refer your partner to the card. They will earn the same 75K points after $3,000 in spending and you will earn a 20k Marriott point referral bonus.
Refer each other to Bonvoy Brilliant: You each sign up for the American Express Marriott Bonvoy Brilliant™ Card using each other's referral link. You each earn 75K points after $3,000 in spend over 3 months, as well as a 20k referral bonus. The card has a $450 annual fee but comes with $300 annual credit that can be used at any Marriott.
Total earned:
Total required spending: $12,000
Marriott Bonvoy points earned: 372,000
At this point, you would have enough to book a five-night stay at the W, JW Marriott, or St. Regis Maldives resorts. You will have 196k points and your partner will have 176k.
While $12,000 in spending requirements sounds like a lot. There are many easy strategies you can use to quickly generate this spend. See my post on 9 Manufactured Spending Techniques for 2019.
Maximizing Marriott's Transfer Feature
Marriott allows members to transfer up to 100k points to any other member each year. Your partner could transfer 59k of their points to you, increasing your total balance to 255k. That's enough to book for three nights. Your partner will be left with 117k, enough to book the fourth night.
However, if your travel dates are not until the next calendar year, you could book a five-night stay.
Your partner could transfer 100k of their points to you in the first year and at least 44k more points after January 1st. You would then have 340k points, enough for five award nights (with Marriott's automatic fifth-night free benefit for award stays). Your partner would still have 32k points leftover.
As mentioned, AMEX Marriott Bonvoy Brilliant card has a $450 annual fee but comes with a $300 credit you can use at Marriott hotels. Just remember to bring both your cards and at checkout, ask to split the bill across the two cards.
Photo by Ishan @seefromthesky on Unsplash